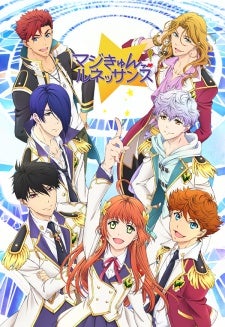 A world where art becomes magic. In this world, people who can inspire passion with their Magic Arts are called Artistas, and are employed in show business. In Hoshinomori Private Magical Arts High School, where Artistas are taught, a strange new student named Kohana Aigasaki transfers into the school. Kohana is placed on the planning committee for the school's yearly Hoshinomori Summer Festa cultural festival. She spends her romantic school life with six other boys who aim to become entertainers in the future. Each of the boys specializes in his own Arts, and aims to make Hoshi Fes a success. In addition, the boys also aim to be chosen alongside Kohana as the school's Artista Prince and Princess, only chosen once a year. A Magic-kyun for you! A new renaissance starts here! Magic-kyun! Renaissance is a multimedia project where you can create great memories with Artistas of greatly varying personalities! (Source: Official site)
---
Story

Meet Kohana Aigasaki who is the first ever transfer student to the Hoshimomori Private Magical Arts High School. Meet six hot dudes, who will (potentially) fall in love with her - mix it all together and you will probably get the general idea what the story will be about. You might want to add some music, painting and sculptures to the mixture since it's on art school.
In all fairness, the first two episodes I have seen so far begins with Kohana transferring to her new school, getting to know all the six main characters - at least from the distance and meeting with the "King" a.k.a. Teika Ichijouji. He - without knowing who she is - walks her to the dorms and shows her around. Kohana is then introduced to her classmates the next day and as well is announced to be part of a committee for the Summer Festa cultural festival. In that instance "King" first hear her name and if front of everybody else in class make her as his rival. Apparently there have always been some hard feelings between those two families going for ages, even though nobody bothered to tell it to Kohana - what a shock.
Next episode is all about eccentric Aoi Suminomiya. He's with Teika and Kohana part of the committee for the festival, but he is not interested at all. He is completely focused on his own calligraphy. He studies alone and doesn't bother to visit lectures. Even though he is not able to see the sparkles for some reason anymore he continues his journey of writing what he wants and have to, but do not know what it is yet. Long story short - he is not interested in committee, Teika wants to substitute him and Kohana wants to convince him to come and join them. How else it can end up in show like this?
---
Art

The art is bright and colourful. Partly it's because all the art made by students in the school spawn sparkles and lights of various size, colours and brightness and overall the whole show is lighthearted. Yes, the characters and faces lack certain depth and sometimes are way to similar, but it's not necessarily bad.
Animation itself is somewhat average - where it gets interesting and distinct is - as said above - when the magic appears from any piece of art. So far every person we met and saw the sparkles / lights from are different and this make characters unique and distinct even though they might look similar - just with different hair colour.
---
Sound & Music

Mostly sound and music in almost any shows nowadays is the one which I can complain the least. Here is it the same. I quite enjoy most of the music, opening is quite catchy even though it won't probably end up in my collection to listen without the show. The only criticism is when they are trying to sing in English - I'm not native (as you probably can see) but even then it sounds really funny and annoying in the same time to me.
---
Characters

So far we have actually met four of the characters - two of the main boys Aoi and Teika, Kohana as main girl and her roommate Juri. All of them seems distinct with different personalities, so I hope they will keep it up with the rest of the guys cast and start to work on development of the characters. As we can see clearly in the relationship between Aoi and Kohana in the beginning of second episode and in the end, there has been some change and probably Kohana will be catalyst to most or all of them. Let's see if she will be up for this task.
---
Enjoyment & Summary

So far I'm not greatly impressed. This is probably one another reverse harem anime, which will fall down to the pit of blunt average. Would I recommend this show at this moment - probably not, will I continue watching it - probably yes. Maybe I'm just interested if the rest of the cast, which did not get any chance to "shine" on the screen yet, will be so different from already established characters. Maybe it's the play of colour and overall mood of the show which makes gloomy days little bit brighter.